Most YA contemporary fiction is set in unrealistic U.S. high schools that supposedly have horrible food and mean kids everywhere.
Like, 98% of schools are in the US, to be honest, and a lot of them are carbon copies of each other, except named after a different president or something.
Which kind of sucks because THERE ARE SO MANY OTHER COUNTRIES OKAY. (Like Canada… *cough* Or think about European countries! Or Asian countries! Australia!)
And because we're reading about teens and all, there's the whole issue of high school and that little thing called systemically engineered torture education!!
I know living in Canada means our high schools are not that different from US high schools, or not so different compared to other countries, but there are still several aspects that I'm not familiar with which reoccur in YA books enough to just make me wonder… does this actually happen in real life?? Maybe it's just because I don't live in the States?
And I know a lot of you are from the States, and a lot of you aren't! So I thought it would be interesting to talk about perspectives on what high schools are like in fiction vs. reality!!
1. Is Phys Ed mandatory for all years of high school?
I'M SO CONFUSED ABOUT THIS. Because I keep seeing these main characters getting all worried or annoyed or frustrated about gym class and I… just don't relate??? Not past grade 9, anyway.
I know several of my friends who did take physical education in Grade 10/11/12, but you only need ONE (1) health/phys ed credit to graduate, and I think it's mandatory to take it in Grade 9?
Aside from that, you don't ever have to suffer through the dreaded class again unless you choose to!!
(For the Ontario diploma, anyway.)
So why, are all these characters choosing to suffer through phys ed if they hate it so much?? Hmm??? (Okay yes, plot, but REALISM. HELLO. Where is it.) Is it mandatory in the US?
I'm just honestly so tired of seeing 17/18 year olds who, complain or face drama because of gym class when realistically, based off my experience, THEY DON'T NEED TO TAKE IT. I know it's important to plot and such but it's irritating! Of course, if it IS mandatory, then… whelp, I send you my condolences.
Unless you enjoy phys ed, in which case yayy for you!! But not for the fictional characters lmao.
ALSO. Is gym class usually co-ed?? Because mine wasn't? (Usually.) Girls and guys had separate teachers, did activities and sports separately. I suppose that would strip a novel of its usual gym class drama, but just being real here.
2. Are there mean girls at every high school?
(Okay, another joke question because no, obviously.) But how common are they, hm??? Not as common as they are in books, I bet. I swear, books paint American high schools as some kind of hang out spot for girls who hate on other girls–like can you please not???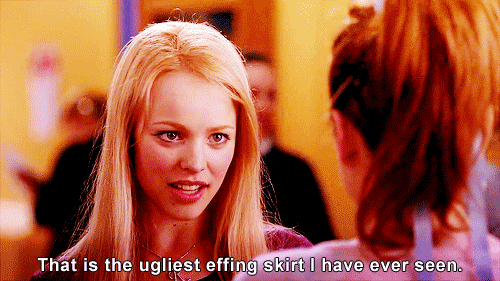 Sure, I didn't love everyone at my school, but no one was outright mean to someone else? I'm not saying they don't exist, but I feel like they're overdramatized A TON in fiction. If you didn't like someone, you just stayed away from them, plain and simple. Not blackmail them for a guy and/or try to undermine them and make sure their life is miserable… just no. Chill.
3. Do you ever have courses aside from English/Math/Science/History??
Okay, slightly sarcastic question because obviously yes. BUT I MEAN. Going by YA novels… no, you don't.
What a sad life. (I mean, that's school already but.)
Also why are the English teachers always the most chill ones? They're not always? I've previously had and my friends have had some pretty crappy English teachers before, who are NOT super philosophical and easy going. Nope.
I am kind of curious about what courses are like in US high schools though, like obviously not that different, but what's the day rotation like? How many do you take? Are you guys also semestered?
Why are courses just never talked about at all??
DO YOU KNOW HOW STRESSFUL CHOOSING THEM CAN BE. And you know, they can be kiiiiind of important. For college and university. Just a thought.
Maybe that's just me and my indecisive self oops
4. How many people usually take AP classes anyway?
I think it's slightly unrealistic great that YA contains so many smart characters who apparently don't need to study to pass their classes, and I'm not trying to discredit anyone who takes/has taken AP (Advanced Placement) classes, but WHY is it everywhere. Just a thought. You don't need to take AP to be smart, you know.
I low-key feel like authors just shove it in everywhere without a thought to kind of show, yeah, this character is super smart and serious about school… but then they don't show that through anything else which makes it kind of futile?
AP is not big at all where I live, but I don't know, there are so many books I've read where the main character is taking like all AP classes or whatnot. That's great, but it makes it seem a lot more common than it might be? Perhaps? I don't know, I'm just guessing from my own experience.
And speaking of advances classes and the like, is the IB program (International Baccalaureate) not popular at all in the States? Like, I don't think I've EVER seen it in a book… but it exists in the States I'm sure, so…….
OR MAYBE… just a typical, standard high school diploma works too. You know.

5. Do people really have different hours for lunch time?
Okay, a serious question! Because I noticed sometimes characters would mention who they don't have the same lunch period as their friend, or something similar, which kind of confused me because what is the point of that? Everyone had the same lunch time at my school??
How does that even work, and why? Does the school become too crowded? Not everyone eats in the cafeteria anyway, can't you eat in hallways and such? I mean, I did. The cafeteria was wayyy too loud and hot and annoying lol. But we all had the same lunch period?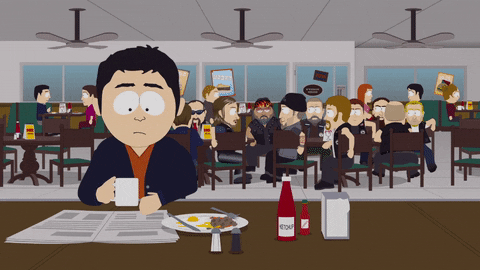 6. Is cafeteria food really that bad?
I suppose this depends from school to school no matter the country, but in 97% of the books I've read, the cafeteria food is supposedly disgusting, or just not appetizing and…???
OUR CAF FOOD WAS DELICIOUS, OKAY. I probably gained 10 pounds from purchasing a delicious chocolate chip cookie or muffin in the morning my first years of high school, but let's be real, I have no regrets.
I mean, those were some GOOD COOKIES. Omg. Best $1.25 I've ever spent. They were super big, too!! Like a good 5-6 inches in diameter.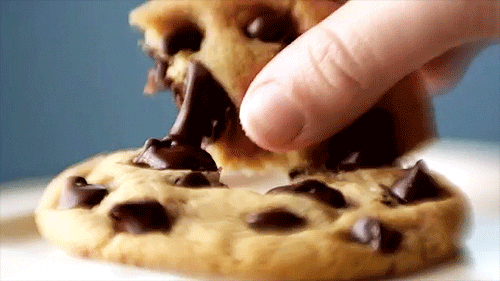 And we had tons of great options for lunch too! I didn't buy my lunch that often because a) ouf that would become expensive,  b) I'm so not waiting in line for that long I'm a very impatient soul and c) *whispers* my mom packed me a lunch for a large portion of my high school years and her cooking is amazing okay.
But still, we had good food! There were large pizza slices, different pastas, sandwiches, and… POUTINE. Granted it wasn't a very large quantity (unfortunately) BUT IT WAS SO GOOD.
Would almost go back to high school for all the food, tbh. The cookies, at the very least.
(ALSO. How daunting and scary are cafeterias, really? Books [and movies, actually] make them seem like such a feat, but… they're really just places where noisy and slightly sweaty teens eat lunch and socialize. I totally understand how for some people that IS a feat [esp. if you have anxiety] but as a generalization, they're not that bad; and you don't have to eat there if you don't want to.)
7. How do groups of friends just happen to have so many classes together?
Grade 9, sure, yeah, I had a decent amount of friends in pretty much all my classes because we had so little options in terms of courses that obviously we'd be grouped together somewhat. And we're still meeting new people and making new friends anyway!
Grade 10, a bit less so but still not bad. Grade 11 and 12 are so much more random though? You have a lot less requirements all of a sudden and people are taking different electives and the like, which means you're not often likely to have your group of friends all in the same class(es)?
I don't know, it depends from person to person/school to school I guess? Depending on how many classes there are for a particular subject, how many students there are, etc.
But I see in books especially large groups of bullies, for example, all in the same Math/English/typical class with the main character and aside from the fact that the bullies seem to constantly pick on the MC (which doesn't happen? usually?) how are they all together???
I went to a pretty large school, so maybe that's what's influencing me but it just makes me laugh to see that happen. Because those chances are just… so slim, where I went lmao. Not to mention bullies picking on someone at all during class was just unlikely lol. Canadian genes? (Jokes, jokes… mostly. Or maybe I just hung out with good people?)
8. How long is your lunch?? 
Why does no one complain about how short lunch is?? These characters seem to fit everything in at lunch and never seem to have an issue with how fast it goes by, despite doing 10 000 things at a time.
For me it was like 45 minutes? And it went by SO FAST. Omg. It was the worst. Walking from your class to your locker/meeting up with friends; 10 minutes! Eat lunch and (GASP) occasionally socialize; 25 minutes! Even worse if you stand in line to buy lunch, have a club meeting or need to finish homework.
SIGH.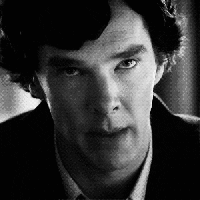 Yet here all these characters are just hiding out in the library–speaking of which!! The school library doesn't always allow food??? What do you do then? — and/or socializing, or going outside nearby to get lunch somewhere else, without a care in the world that, oh, look, lunch is almost over crap, we gotta hurry!!
I see you, authors trying to fit in all the drama at lunch time, but it ain't working because these students should be getting to class. 😂
9. How comfortable are your seats?
This of course depends from school to school or even class to class, but OH MY LORD SOME OF OUR SEATS WERE AWFUL. The seats were attached to the desk looking something like this:
Which meant to sit you had to make sure to be on the side without the metal bar thing attaching the desk and the chair otherwise you have to do this awkward thing where you lift your leg over the bar (which is made worse if there are people behind you, or a desk right beside you because trust me, it's not a very flattering position).
And!! The back part of the seat usually had screws, which meant my hair would ALWAYS catch on them and djadiaehfuihfwiuhiuwef I swear it was torture. TORTURE. I lost so much hair from those chairs, I swear. (And I didn't usually tie my hair up either because who has the time to do that also I didn't really like to do so)
Of course there are some normal chairs out there which don't aim to kill me, but then those desks are usually made for multiple people and then you face awkwardness if you're assigned to a seat with people you don't know very well or some other awkward situation….
WHY IS THIS NEVER AN ISSUE. I demand characters to suffer as I do.
10. Report cards… exams… studying… death… is that not required to succeed high school??
Sure, some people might just not study or care about exams, but then I don't think those people also ace their exams without studying? Like, as a general rule? (If you do, that's great! I admire your skills!)
But there are so many characters I've read about who just never seem to care about handing in assignments, or their marks each term and report cards, their average, or their courses, ESPECIALLY during Grade 11/12, yet are on a straight path to some Ivy League school or are in AP classes…………………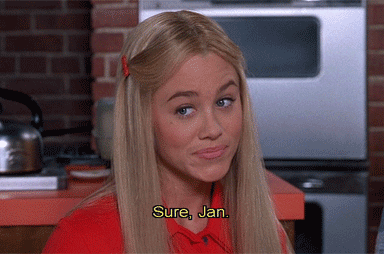 ¯\_(ツ)_/¯
High school was kind of stressful okay. I have parents wanting me to have at least a 90+ average and a procrastinator-perfectionist mindset (which is an AWFUL pairing) which meant I worked really hard for my marks because they don't always come easy!! It's hard not to spite these fictional characters getting accepted to all their choices seemingly without have done much? How easy is high school for you Americans, hm? I demand your secrets or the lies to be revealed.
Calling all Americans to answer these high school questions!! What is/was your experience in high school? Does it match up to what you read about in books, somewhat? And if you didn't attend/don't attend high school in the States, what's your experience like? Which country's high school system would you like to read more about in books? Did anyone else have death traps painful seating arrangements or other particular high school experiences?
And I'm sincerely asking about phys ed in the US, because IT IS EVERYWHERE and my brain cannot compute (or search it up on the Internet because this way is obviously more fun).
At this point, I'd just like any schools apart from ones in the US haha no offense!! I find it's such a shame so many books are set in the US, for so many reasons, but also particularly because of high school. It just gets so repetitive! At least make different types of high schools. Idk. Something. Because right now, there are many similar holes I see and I'm calling out these "schools". 😂
I just realized 3 of these have to do with lunch time and I'll just leave it up to you to determine what that says about me…