If there's one thing you should know about me, it's that I am a natural procrastinator.
And I don't particularly need a reason to procrastinate. IT JUST HAPPENS. With studying, blogging, emerging out of my hobbit hole aka my bedroom… (never eating though. Just fyi.) Studying, okay, I think we've all procrastinated on that one, because WHO LIKES THAT.
But reading! Our companion! Our one true love! Our ENTIRE BEING.
Why would one procrastinate such a beautiful thing?
Well. Let me tell you.
If we were to delve deeper into the land of psychology (or just common sense) there are definitely some eyebrow-raising* reasons bookworms procrastinate reading books on their TBR which I am going to expertly** discuss!
I'm linking up with this week's Top Ten Tuesday prompt "Ten Books We Meant To Read In 2017 But Didn't Get To (and totallyyyy plan to get to in 2018!!)", (the last one) hosted by The Broke and the Bookish!
*Not really. They're pretty basic. But whatever.
**Hahahaha
1. TOO MUCH HYPE, DARNIT.
This has been the case for me MANY times, okay, especially with book blogging?! JUST TOO MUCH HYPE. Hype has led me well many times, but there are moments where there's just too much of it. Too much pressure, too many expectations… all leading to imminent doom aka disappointment?! Because I'm building it up so much in my head due to the hype and what if it lets me down??
EVEN IF I know in my soul that it's a book I will love it as much as everyone else did, I don't want to deal with the possibility that I… don't??? BECAUSE AWKWARDNESS. And also, I want to like it!!
2. It's a sequel and I'm not ready for that inevitable cliffhanger – The sequel struggle
Most authors, have realized our weakness and their path to success: CLIFFHANGERS. They're everywhere, from first books, and to sequels, of course! I become SO HYPED for the sequel after reading first books (because they, too, have a cliffhanger naturally) but then it's released and I'm like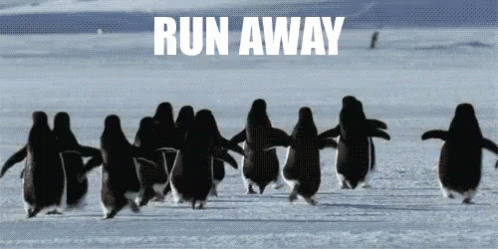 Because I KNOW there's going to be another cliffhanger and I also know I'm not getting any answers until a YEAR later and so I'd rather not deal with that deathly wait time??
3. It's a series finale and I NEVER WANT IT TO END, OKAY. 
I've been (shockingly) not horrible with reading series finales? (I like to think, anyway.) But they're so difficult oh my gosh. Most finales I've read are of fantasy novels, so that's what I'm referring to when I say: ALL THE FEELS. All the pain, and all the destruction and everything is just combined into one book and then–
DONE.
Your favourite characters, safe (or dead) and sound, and you'll never heard from them again because IT IS THE END. The end. That already sounds ominous.
I don't want to leave such a wonderful series, you know??? Let me hold on to these beautiful characters pleeeeeease. HENCE PROCRASTINATION.
Also if I've been waiting a while for a series finale I will probably have forgotten what happened in the previous books and procrastinate reading the last book even more hahaha oops.
4. It's a series. Period.
I HAVE COMMITMENT ISSUES, OKAY.
Well, actually, I'm fine once I've started a series. But before then? Nope I'm not ready for that commitment!
Especially with fantasies; one second you're like, oh, okay 3 books! Generic, typical, I can deal. And then the next thing you know it goes onto 3 more books … AKA DEATH because now you have to/want to continue but also more death by waiting??? (I don't think that even made sense but whatever.)

So, obviously the best way to not deal with all that pain is to just not start the series at all, duh. (No issues with logic there.)
5. Mixed reviews … hence confusion hence procrastination
What if I like it? What if I don't? So many what ifs??? (Only two, but that's stressful enough, okay.) It's honestly such a struggle when you have multiple people telling you different things about one book. If one person passionately hated the book while the other is raving about it, what do you do??
Obviously nothing at all. PROBLEM SOLVED.
6. The curse of the moods
I'm a mood reader. I have 0% logic with my reads, going more with 78% my mood of that day/week/month, 18% how hungry I am and 2% how willing I am to have my heart broken.
This is obviously how everyone makes decisions on what to read???
For the longest time last year, I was in a huuuuge contemporary mood, which meant I procrastinated A LOT on the fantasy reads on my TBR hahahaha oops. But what can I say? I wanted sob stories and cheesy stories and the heart wants what it waaaaants (okay ya I'll stop).
Honestly, who knows how long a specific mood will last, so you could be sitting here 200 years into the future speculating about how you never got to those books you meant to read during that time when…
Or you'll just sobbing over the unread books on your TBR in general
8. Predicted heartbreak
Maybe you've been alerted from other reviews! Maybe you have a sixth sense that can predict heartbreak in a particular book! Maybe your pet told you! Either way: HEARTBREAK IS SCARY. And tiring. Do you know how much energy goes into reading a good book??? TONS. It brings out so many (like, 4) emotions!! It makes you think!! (What a scary thought) It makes you FEEL THINGS.
And even if I know that it's a book I will love (honestly heartbreaking books are so well written) the painnnnnn! Not ready for it!!!
(And no, your mind isn't playing tricks on you, I skipped coming up with a number 7 because I WANT TO REACH 10 OKAY even if I'm cheating)
9. Laziness 
A lot of books, are very large. Large books = many pages = effort = time consuming = a particularly lazy person will not read ;)) There we go, in very simple terms!
IT'S SCARY, OKAY. When books are big I just need some more mental preparation, you know? It's just such a commitment, and there are so many things to do and I'm just being time-efficient* by procrastinating this book, okay?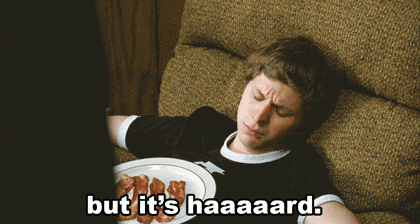 Me @ the Very Big Book waiting to be read (or reading in general…)
*Or being lazy 
10. The book was forgotten
The easiest, most simplest reason: FORGETFULNESS. (Hahaha my life)
Although that doesn't quite fit the term procrastination (how do you procrastinate reading a book you forgot you wanted to read?), it's still for sure a reason I didn't end up getting to a book I previously! In my defense: when you have 10 000 books you want to read, shiny new releases and a teeny tiny brain to remember it all, IT'S EASY TO FORGET.
And once I forget, well… ¯\_(ツ)_/¯ … but didn't actually read because PROCRASTINATION IS A BEAUTIFUL* THING.
*I prefer to sugarcoat things sometimes because they're sweeter that way, obviously.
Illuminae & Gemina by Amie Kaufman & Jay Kristoff: Hype, Predicted heartbreak, Series commitment, Curse of the moods // I SWEAR I PLAN ON READING THESE (and Obsidio) THIS YEAR. *hides*
The Raven King by Maggie Stiefvater: Series finale, Predicted heartbreak // Hahaha I'm going to go hide now. (I don't want to say bye to my precious Raven Boys thooooo)
Lord of Shadows by Cassandra Clare: Hype, Predicted heartbreak, Sequel struggle, Laziness // I'm probably going to read this when the third book comes out, lol not up for that cliffhanger y'all!! (Also: 700. Pages. My inner lazy alter ego is screaming)
Strange the Dreamer by Laini Taylor: Hype, Mixed reviews, Series commitment, Laziness // LAINI TAYLOR! (But I've heard there's instalove and now I'm hiding in fear)
Caraval by Stephanie Garber: Hype, Series commitment possibly, Forgotten // For a while after its release, the hype was ROARING, and I kept telling myself I would read it… but then hype died and… here we are.
Blacksouls by Nicole Castroman: Series finale, Forgotten // The first book ended in a total cliffhanger (I think)!! But not gonna lie, I totally forgot about this one oops. It had a good debut though!!
Vicious by V.E. Schwab: There's-something-wrong-with-me, Curse of the moods // I tried reading this a few times, not gonna lie! But those CURSED MOODS. I couldn't get into it. I KNOW. I adore V.E. Schwab so, so much and I know I'm going to love it, but for now… *sinks deeper into the ground*
Paper and Fire by Rachel Caine: Forgotten, Curse of the moods, Sequel struggle // I really liked the first book! It's such an underrated series but then I just was never in the mood and, well… I forgot?
We Are Okay by Nina LaCour: Hype, Mixed reviews // Mixed reviews! The death of me, honestly.
Queens of Geek by Jen Wilde: Hype, Forgotten // I don't know why I haven't read this yet???? It literally sounds amazing and honestly what is wrong with me????
King's Cage by Victoria Aveyard: I-was-going-to-read-this-but-I-did-not-like-the-second-book-at-all-so: I didn't really like the second book but there were people saying this one is better so ?? I was going to give this another shot?? But nope, didn't happen. (I don't know if it will happen this year either tbh?)
Aristotle and Dante Discover the Secrets of the Universe by Benjamin Alire Saenz: Hype, Mixed reviews, Forgotten, Curse of the moods // Everyone keeps telling me to read this book!! But then some people were saying it was super slow and I hesitated because MOOD. But I definitely want to read it ahhh.
I've exposed myself in this post SO MUCH. Yikes.
But tell me, I can't be the only one procrastinating on highly anticipated books?! What are some reasons you've procrastinated reading a book for?
Do you like small or big books? What are some books you wanted to read last year that you didn't get to? (Feel free to link your Top Ten Tuesday posts!) Which of the books I've been procrastinating should I read asap???