Summer is ending! And school is starting! Or has started! Let us all have a moment of silence for our (my) free time going down the drain.
AHEM.
See, I'm not very looking forward to returning to school. (And for those of you have already started, LET US SHARE THE PAIN.)
BUT.
What if we could somehow attend the schools we find in our books instead? Think of all the schools that we could've gone to. You know, if the schools' mailing system wasn't so horrible and they managed to mail our acceptance letters. 😉 I would be so excited to return to school???
And so, in order to do something for school season (or to remind us once again how fiction can be much better sometimes) I have a list of fictional schools that I would love to attend!!

It's Wingardium LeviOsa, not Leviosaaa!!
I'm already so skilled, guys. Obviously Hogwarts just lost my letter??
Which is SO SAD GAH. :'(((( I mean, just IMAGINE studying at Hogwarts?!? *dies*
Everything is so much more interesting, and UM you do MAGIC and not something ridiculous and torturous such as math, etc.?? Any school where math is not included I am already a happy camper.. and here we have NO math AND MAGIC YAY!
OH and now that Harry's gone, people also have a chance at NoT dYiNg. Which is good. *nods* (hahaha sorry Harry child I love you)
No math… check! Magicky-type things… check! Possible death and severe injuries… check… wait what???
#oops #stillwantogotho
Pff, what's a little danger anyway? I can obviously use my epic demigod powers for self-defense?
I'm still curious as to who my godly parent would be–I mean is. I just haven't been claimed, you see? I kind of hope Athena… or maybe Apollo? Or Poseidon haha. I DON'T KNOW OKAY.
Someone just claim me already and stop my wondering and let me go visit Camp Half Blood ok thanks.
3. Watford School of Magicks (Carry On)
Three words: sour cherry scones!! (I swear my mouth is watering ahhhhh I've never had scones but they sound SO GOOD can someone make me some please)
Oh, and magic too, I guess? xD
Carry On seems like a form of Harry Potter, and I know a lot of people didn't like this book for that reason, but I loved this book!! Simon and Baz are the CUTEST and if I can't go to Hogwarts (stupid mailing system), Watford is definitely a must.
SOMEONE TAKE ME THERE ALREADY.
4. Beauxbatons (Harry Potter, France)
Another magical school, you say? Why yes, because obviously those are the best schools to attend. Even if we literally have zero information on this school apart from a) it's called Beauxbatons, b) it's a school of magic and c) it's in southern France!!
YAY. Lots of information.
For all we know this school could be teaching students how to be axe murderers?? (Wow that got dark I apologize…. Then again, they don't look like axe murderers???)
But I digress!!
I like magic + I like France (and can kind of speak French too??! Taking french immersion will finally be useful yayay) + MAGIC + France (yes I'm repeating the same points to make this school a valid one to attend) + french food + MAGIC = Beauxbatons > Real life schools!!
I swear, I could not understand Anna AT ALL for the sole reason that she was.. somehow UPSET at having to go to Paris for school???????????
Am I reading this properly?! PLEASE, let's switch places. (I mean I suppose Anna isn't going to switch now because of Etienne buuuuut…)
It's a boarding school in PARIS. Paris. Um, yes please!! Imagine all the things we could seeeee oh my gosh. *dies from wanderlust*
(Much death in this post. Apologies.)
I swear, just reading Anna and the French Kiss made me SO JEALOUS and ahhh I still will never ever be able to be on board with Anna's grouchiness at being sent to Paris. GOSH. Someone help Anna and also give me a plane ticket.
Five words: WE. CAN. BECOME. SHADOWHUNTERS. (As long as we don't die…….)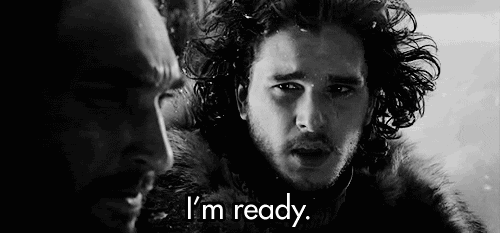 I mean, I AM WORTHY. Right, guys?
Being a Shadowhunter would be so, so awesome though, there are runes for everything and if going to Shadowhunter Academy ensures I can use those, SIGN ME UP PLEASE. And also I want to save.. humans.. from…. demons and things.
To be real though, I would probably make a horrible demon hunter because I would be all too lazy and you know, unwilling to die… to actually hunt demons? Unless a demon tried to destroy my books.
Then it's time for death.
(Hahahaha hi I'm Analee and I'm a passionate bookworm and super duper harmless and friendly!!)
7. Literally almost any contemporary high school
OKAY, OKAY, I'll tone it down from all the fantasy magicky schools!! (Even though those are 100% the best ones to attend.)
Maybe I'm poking fun at contemporary just a little about its unrealistic schooling aspects, buuuut honestly, half the fictional schools in contemporary are just SO CHILL. And if it's unrealistic, well… either way, it makes them a good choice for less stressful school?? (I mean, unless you want to actually LEARN something.)
WHY:
We get to have all the MEET-CUTES! 
(Seriously, how do fictional characters manage to just find eachother all the time?)
Oh, and you only have one or two subjects at school per day. 
Usually English? (I looove English)
Ft. a super cool and sensitive teacher who will help with your life problems!
Hardly any math!! (*happy dance*)
Don't feel like going to school? It's okay, you can walk out during school hours with zero consequence!!
(hahaha I wish.)
Did this just become a mini follow up to my previous post on unrealistic tropes in YA? Yes, yes it did. #noregrets
Am I too obsessed with magical schools?? (NO OF COURSE NOT.) What fictional schools would you like to attend? Which magical school is your favourite??? (Very tempted to put my opinion but I think we all know the answer here.)
AND MORE: If you've read Harry Potter and/or Percy Jackson, what's your house and who's your godly parent??! Are scones delicious?? (Can I have some pleeeeeeease) OH and if you attend school/uni,college, have you started yet or when do you start?? (I start tomorrow and I CRY send cookies please)