I love books. They have wonderful characters who you want to squish and keep away from harm forever and (preferably) relatable, realistic, and flawed characters. Right?! And although there are the groups of them that make horrible decisions and get into huge messes… generally they're either a) able to get out of the situation or b) they're just perfect and end up suffering minor consequences or something. And many people hate on them for either their decisions or whatever foolish mistakes they make, but let's be real here; I would totally be the worst one of them all. Why? I'm glad you asked! (That's totally not the whole point of this post or anything.)
1. I can be TERRIBLE at making decisions.
Which, no biggie, right? Sure, in real life it's just a minor inconvenience perhaps–I mean, I've survived my whole life making decisions, so it's all good? But those decisions are, say, should I be productive today or should I watch Netflix? (Netflix, of course.) Should I eat another chocolate bar? (No, I shouldn't. But I will.) OR WHAT BOOK DO I READ NEXT?!?? As you can tell by my extreme use of capital letters, this is a very important and very #stressful decision to make.
So now, I ask you, how on earth am I suppose to choose between whether I should go fight to the death or stay in the comfort of my home and wait for others to protect me??? Or… if I had to choose between Jem or Will??! Or any two male love interests, really. It's so easy to make fun of characters in books, but I would be so much worse in their situation, I bet LOL.
2. I am greatly allergic to anything that might cause my death.
And you know, seeing how 99% of the time in fantasy novels, the main/secondary characters are constantly at the risk of being KILLED (or they actually are killed… *sob*) I believe my allergies would flare up greatly if I were in their shoes. I've never had the symptoms before, but knives, arrows, weapons, all terrible for my allergies and always present in the midst of a war or something. *sigh* They have no consideration. Not all of us can be fierce assassins like Celaena or courageous wizards like the golden trio and company. Ahem. By not all of us I mean *me* because, um. Allergies, remember? Very deadly. *nods*
3. I'd probably end up dying for the stupidest reason anyway.
Seriously, knowing me, just watch me trip and end up on my face, on the ground, during the middle of a dance or something. And falling unconscious. And thereby missing whatever attack or battle or something that happened next because I'm on the ground and accidentally dying. (Is that possible? Sure.) But serious question: How are YA protagonists all so graceful on their feet??? I WANT TO KNOW. So that I'm prepared, obviously, and can train to not trip and fall unconscious in the middle of a dance floor. Because I'm also allergic to that, by the way.
4. Or I'd die of fear before the battle even begins, tbh.
I would like to think that I'm super brave and totally capable of fighting off, I don't know, Voldemort or an army of deal people, or something, but ummmmmmmm. Actually being up there, having to fight? Even after loads of training, that wouldn't prepare me for the shock and actual threat in battle. It is totally possible for me to faint or something. (How are YA protagonists so chill with the whole battle thing, though?? Sure, you've had training but how do they not collapse from fear? I mean, that would probably detract from the whole amazing-ness and suspense of the battle and all the stabbing and killing that I only like when I'm not hypothetically imagining myself in that situation, lol, but it's a natural reaction! It's totally acceptable during a time like that.)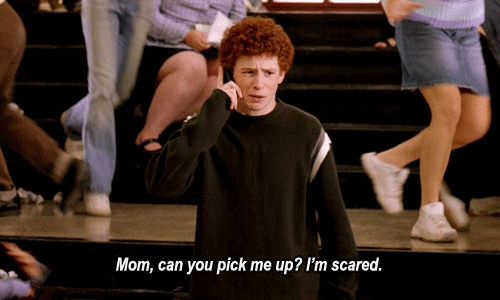 5. I lack any sort of skill that would be useful.
Do I have magical powers a la Harry Potter or Grisha? No. Am I kick-butt Shadowhunter or fighter of any sort? Nope. Am I able to pick locks or be super stealthy a la Kaz and Inej? No. What can you do, then? You ask. Well I wasn't exaggerating when I said I lacked any sort of skill! I mean, sure I can… read? And blog? And… spend too much money like a pro, but none of those would be useful at all so basically my book would be filled with me trying to keep up with the actual helpful people and trying to feel useful and special. Ahem.
6. I hardly have any tolerance for pain.
Well, that's a kind of lie. As any girl can relate, I'm sure, those monthly appearances are dreadful. But do I survive those silently and courageously? Of course not! I can't withstand a papercut without groaning, like. What if I got a… sword-cut?? (That doesn't sound right.. maybe just stab wound is better.) I would probably give up. Do you know the number of times my fictional friends have gotten hurt?? If I felt bad for them while reading, I doubt it will compare to my own self-pity if I got stabbed, to be honest. 😀 But can you blame me, really?
7. I would whine about not having food.
Not all the time, but most of the time, the protagonists hardly get food! You can take many things away from me but not my food (or my books)! How the characters go so long at a time without any food astounds me and causes me to want to run away in horror just thinking about it. I get super cranky and am in a terrible mood if I don't get enough food and it's just so good why would I want to go without it? To be fair, I suppose the main characters don't have a choice really, but currently, as this is all hypothetical (thank god) I do! And basically, I'm not prepared to leave food guys. If I was a YA character and had to, I'd probably groan about how I'm so hungry 70% of the time. The other 30% would probably be for water, which would increase to 50%, and soon the whole book will be filled with inner monologues about how I'm hallucinating that my enemy has a head made of cake or something.
8. I would be way too gullible.
One of the most anxiety-filled moments (or perhaps frustration-filled for some people) when reading a book is when the main character is walking into a trap and you know it. The whole time you're either praying you're wrong or that they stay alive (if you like them) or cursing them for being so stupid and naive (if you do not). Either one. In any other circumstance perhaps I'd be in the first group but there's only so many times a person can make the same mistake, right? I mean, of course, I'm familiar with all the tricks used to lure the main character into a trap, but I imagine there are probably a lot more that I'm not aware of that may be used on me–and like I said, I can be very gullible. And tempted by things like food (especially if I'm forced to not have enough of it throughout the book) Oh and books of course. I should hope there are no people aiming to hurt me reading this post because I'm revealing sensitive information here!
9. I am not fond of killing people.
Yay, you may all rejoice in the fact that I am not, in fact, crazy, and actually, do not enjoy killing people. LOL. (Nor do I have the ability, fyi.) Problem is, one of the best parts of a fantasy novel is the conflict and the battles, which means YA characters in fantasy novels have some inborn ability to fight like a boss. (Or they trained and learned to fight, but who likes extra work?) Basically, it means most of the time, they kill their enemies quite brutally and… I probably would not be able to stomach that which also means I would be useless in battle (if my lack of skill with a weapon didn't already prove this) and thereby useless to the whole quest-plot-adventure-thing because I DO NOT FIGHT.
10. Not interested in, you know, dying.
Most YA characters have something to lose–actually, human beings in general always have something to lose. And then they have something to fight for, something at stake. Their dedication and their strength in face of difficulties is inspiring and fun to read about because it leads to #battles but in real life? Having to do the same thing as them? Yeah…. no, thank you! I'm not as selfless as book characters. Few people are when it comes down to it. Book characters have the liberty of doing whatever, sacrificing whatever because they are fictional and will live forever even if they die. (*gasp*) Me, as a human with A) a will to live and B) no willingness to die and C) very selfish motives, I don't need to think so honorably towards some random fantasy world for the sake of a hypothetical situation. Wow, I'm making this a lot more complicated than it has to be. I DON'T WANT TO DIE. The end.
---
Wow, this was a slightly depressing thread to walk upon, but, well, you asked! (Hush, this post was not my idea. I wrote this up at like 1 or 2 AM in the morning and I blame that for my utter nonsensical rambling.)
But I think that's all the rambling I have for this post! This post puts me in such a bad light, haha. Let me know your thoughts in the comments; do you think I'd be or you'd be a good protagonist in a YA fantasy? Can you relate to any of these or do you perhaps have any additions to mention? I'd love to know! Hope you enjoy your Monday. 🙂