Beauty and the Beast is finally OUT!! *cue screaming* Or for others, will be out very soon?!! I actually watched it yesterday and I loved it so much!! To be expected of course, but oh my gosh, the anticipation for this movie, the expectations were so high and ajrlkwjgwjgwinencksanwhenjfhsjns I'm just so glad this movie was made the way it was and MET MY EXPECTATIONS. *squeals*
And that's perhaps a post for another time, but today, continuing my little B&B theme going on, I wanted to do a post about what I love about Beauty and the Beast! I've talked before about loving retellings, but I never discussed what I love about the fairytale this was all inspired by?!?? So here we go!!
1. Belle is kind of fabulous
I relate to Belle so much?? Okay, fine, I relate to her love for her books. I can't exactly relate to anything else, but BOOKS. I love books + Belle loves books = I love Belle for loving books! I also love her dedication and love for her father, it's really sweet! We don't see many positive parent-child relationships in the earlier Disney princess movies–and side note: the live-action movie represented it better than the animated one in my opinion!! She's also brave and kind, and this is highlighted even more in the live-action movie. (Whoops, this is becoming less of my thoughts on the original fairytale and more on the live-action movie!!)
2. The Beast
Okay, so he's a total… um BEAST?? And he is quite horrible 70% of the time, but the relationship between Belle and the Beast is a pretty big factor as to why so many love the story–albeit the fact that there are definitely problematic issues with it. But he goes through a sweet journey and has nice growth #thingsreadersappreciate. No joke, everyone is fawning over the relationship between him and Belle and I'm just here like I'm glad he's not as much of a jerk at the end #truth. But I did love the beast, don't get me wrong haha.
3. LOVE (for the library, obviously.)
DO YOU SEE THAT LIBRARY??!?? THAT IS MY LOVE RIGHT THERE. ❤ ❤ Imagine having a library like that??! Filled with alllllllll the pretty books I adore… #goals. Booklover's dream right here. Forget the prince, I want his library?? Give it to meeeeeee.
4. Belle and Beast's Relationship
I'm not here to discuss the Stockholm Syndrome debacle and all, because a) I don't feel qualified haha and b) that's a whole other issue that is not the point of what I'm trying to say haha. What I love about their relationship is the growth and the development, and the beauty in finding the beauty within. Don't judge a book by its cover and all, right? Seeing the Beast change and become more caring, and less beastly haha, and Belle falling for his kind side (and not the abusive side, mind you) was actually very sweet!! ❤ (And it was so lovely in the live-action movie!!!!)
5. Lumiere, Cogsworth, etc give me life.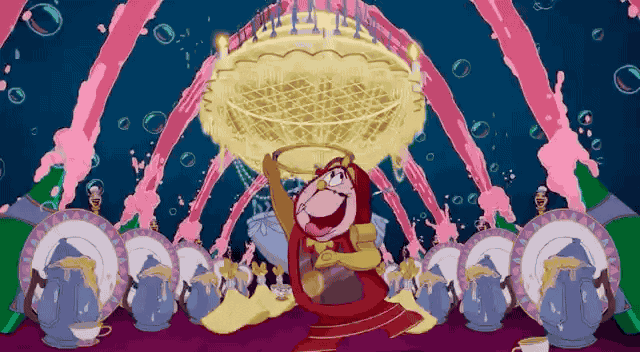 I'm kind of in love with all of them?? Haha they're just so much fun and adorable and growing up, they're definitely one of the reasons I loved the movie. Call me childlike if you want, but they're just as precious and just as much part of the story as anyone else!!
6. Tale as old as time.
Such nostalgia! Such memories! Beauty and the Beast (and just Disney in general) was such a big part of my life growing up haha and there's just that emotional attachment! They all have this aspect of magic to them and I just think, that, paired with all the other elements, makes it so memorable–and so beloved. The theme, the characters, the story, all of it, is just so special.
Retellings for your Beauty and the Beast cravings!
Okayyyyy so confession!! As much as I'm obsessed with Beauty and the Beast, and obsessed with retellings, I haven't actually read many retellings of it? I know! #sad BUT. I shall read more of them!! And I have collected a bunch of them, as many as I could find, for future reference and for you all to either a) add them to your own monstrous TBR, b) screech at me to read one of them that you adored or c) join me in my despair as we realize the lack of B&B in my life *the horror!!*
Read
A Court of Thorns and Roses by Sarah J. Maas: An obvious pick, much? Haha. One of the most popular B&B retellings out there, I think. It's New-Adult, I believe, and has some steamy scenes, but that's the extent of it! I really loved this one.
Cruel Beauty by Rosamund Hodge: I liked this one! I think?? It's been a while since I read it and I'm not exactly sure anymore haha. It definitely had its issues, though (like any book) but it was still pretty good! The main character, Nyx, was kind of annoying, but I liked the world and the concept.
Beastly by Alex Flinn: Aha… um okay. Well. Didn't like this one very much. Or at all. Which is so sad!! Because it's Beauty and the Beast and everything but like…. I couldn't connect to the characters much at all? The narrator, the Beast, was actually SO ANNOYING and didn't get any better, and I just didn't care about him at all. So disappointing!
Unread
Of Beast and Beauty by Stacey Jay: I haven't read this one, but it sounds really good?? It  was released 4 years ago, and I've heard really great things.
Hunted by Megan Spooner: This was released a few days ago, I believe, and I can't wait to read this one!! Out of all the retellings, I think this is the most recently-released and most anticipated one for me.
As Old As Time by Liz Braswell: This one actually seems really good as well! I definitely want to pick it up sometime.
---
That's it for this post! I LOVE Beauty and the Beast so much, and I just wanted to share a few reasons why, though I suppose a lot of it goes unsaid! 🙂 By the way, the movie was AMAZING and I now am going to squeal at all of you to go watch it!! If you couldn't tell by my blog posts recently, I'm obsessed with this and the movie was so great as well so basically I'm screeching in happiness.
But I digress!! What do you love about Beauty and the Beast? What are you *gasp* not a fan of? (It's okay, I can take it. Mostly.) What retellings of it have you read/recommend for me to read? Have you watched the movie/plan to watch the movie (the correct answer to the latter is a solid yes btw)? Let me know in the comments!!
Lots of love!