Guess what celebration is right around the corner? That's right, Valentine's Day. And so, because I'm so very nice (or so I like to think) in honor of that measly little celebration where people expect you to get them things, I've decided to make things easier for any of you struggling to find the perfect Valentine's Day gift for that special someone, a family member, or yourself (because it's important to gift yourself these things *nods*) or if you want someone to get you something good for Valentine's Day, well, you're welcome! And even if this post isn't much help and ends up making you jealous for the things you don't have (AKA ME RIGHT NOW) … well, I'm glad you stopped by! XD Just kidding. It's always fun to look at bookish gifts either way, am I right?!
So.. before I ramble any further and bore you all to tears, let's get on with a few bookish gifts that you might want to get for me your resident bookworm!
Although, please note: None of these pictures belong to me! Credit goes to respective owners. 
---
To be honest, Etsy or Red Bubble (and Society6) are your best friends for bookish gifts! There's soooo many options, so many ideas for bookish gifts that basically any bookworm would enjoy! To start off, here are some bookish necklaces (from a variety of Etsy stores) to drool over…
Find them here: A Thousand Pieces of You | A Court of Thorns and Roses | Anna and the French Kiss 
Or there's this Will Herondale one… 😉
Also, HOGWARTS. AND HARRY POTTER. Yessss.
Or simply this one because, well, do I need to explain??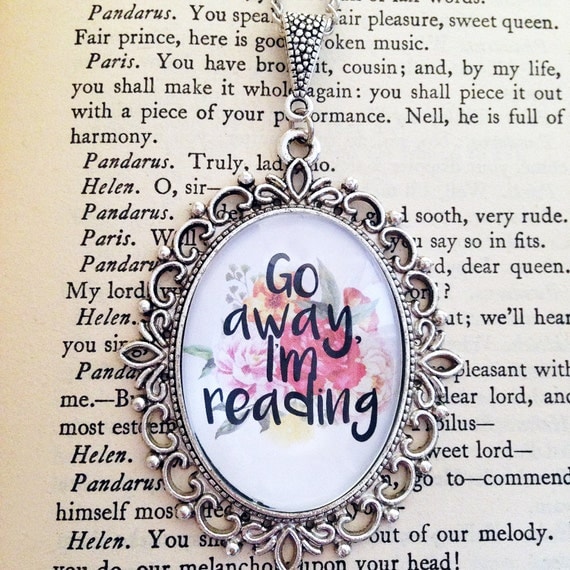 There are also other ones you can check out here. Someone get me all of these, quick! XD (Oh, and be sure to get some for other people too, if you want.)
To continue the theme of bookish necklaces…
It's kind of perfect for Valentine's Day, am I right?! Find it here.
There's also things like:
Find them here: Bloggers Gonna Blog | Reader | Writer 
Perfect, I tell you, PERFECT.
For more in this style, check out the store.
This is actually so perfect!! Not to mention 100% true. Find it here.
---
Soooo I should probably move on to other bookish gifts before I fill up this whole post with bookish necklaces… BOOKISH MUGS, here I come!!
What more could be better than a mug? A bookish mug, of course, and this one is absolutely perfect. Find it here!
Okay, I must confess (although most of you probably know all of this already): I haven't read the popular Stephanie Perkins books from which this mug is based on. BUT I do plan on it! This mug looks sooo pretty and it's definitely urging me to read the books, haha. Find it here.
A mug with a quote from The Infernal Devices? YES PLEASE. Find it here!
Everyone loves pillows, right??
I mean, who doesn't? What better than to have a comfy pillow next to you in case you fall asleep reading? And a bookish pillow, at that? Pff, I don't get why you guys all don't have this already. (I don't have this either but hussshhhh. That's why you guys have to look at the following pillows and get them for me.)
Doesn't this pillow look so artistic?? I love it so much. Find it here!
Another perfect pillow! Find it here.
Aaaand to wrap up the bookish gift ideas, a few awesome tote bags! (Because who doesn't like tote bags??)
It most definitely is, for me! Find this bag here.
I love this bag so much! The quote on it is perfect, and the bag itself looks really cute. Find it here.
Omg this is so pretty. I NEED THIS. Find it here!
---
SO. What are you planning on getting for your special friend or family?? Aren't these bookish gifts just so amazing? Which ones would you want to get for yourself? Does anyone want to get me these? 😛 Even if you aren't planning on buying any og these, which are your favourites? Happy pre-Valentine's Day! (Yes, I do realize there's still a week left. Details, details.) Let me know your thoughts in the comments!